Mikuni TM40-6 40mm TM flat slide carburetor withaccelerator pump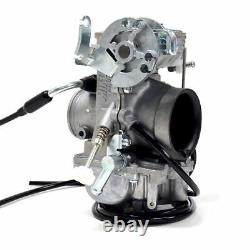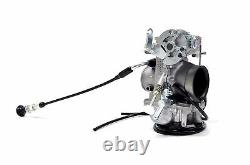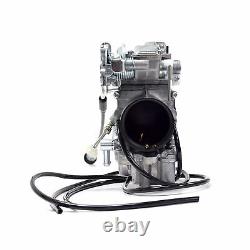 40mm TM flat slide carburetor w/accelerator pump. TM Series Carburetors provide significant performance improvements over older design round slide carburetors. Air flows faster and smoother through the TM Series venturi due to the flat slide configuration and the jet blocks which help create a smoothbore effect. The high velocity of the air flow means a stronger vacuum at the needle jet, providing more precise metering and better throttle response. Uses standard VM pilot, main and air jets. Comes with built-in location for power jet.
Our motto is, "In Dirt we Trust". We've been racing in the dirt since 1973!
We know what dirt tastes like, and now enjoy Street and UTVs also. Our company has been around since 2003. Since then we have expanded our selection of new and overstock items requested by our customers. This year we are rolling out a huge amount of unique kits including brake pad kits / suspension kits, chain & sprocket kits / graphics & seatcover kits / engine kits / body kits in response to customers having difficulties finding the correct items on all of our websites. Listing and template services provided by inkFrog.