Mikuni TM Series Flat Slide Carburetor (TM36-2) 36mm TM36-2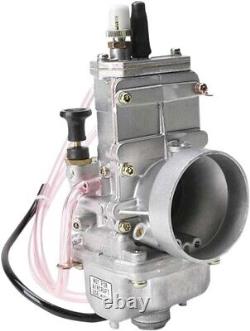 Mikuni TM Series Flat Slide Carburetor (TM36-2) - 36mm - TM36-2. Type - TM Carb Size - 36mm Main Jet - 280 Pilot Jet - 50 Needle Jet - (389)Q-6 Jet Needle - 6FJ40 Throttle Valve Cutaway - 4.0 Air Jet - 2.5 Needle Valve - 3.3 Choke Type - Button TM Series flat side carburetors provide a significant performance improvements over older round slide carburetors. Air flows faster, smoother through the TM Series venturi and jet blocks due to the flat slide design which help create a smooth bore effect.
The high velocity air flow means a stronger vacuum at the needle jet for more precise metering, better throttle response. To service the entire country as fast as possible, we have warehouses in many states across the country. Why does the part I'm looking for not look like your photo? Although we source manufacture direct photos, some manufacturers only supply us with generic part or kit images. Please be sure to check both the title and description.
We guarantee a proper match if your vehicle is in the title and/or description. Does this part fit my vehicle? We make every effort to include current vehicle fitment directly from respective manufacturers.
Parts without fitment are to be assumed universal and may require vehicle modification. Tracking shows my order has been delivered, why have I not received it? We are sorry to hear you have not received your package. Please check with your household and neighbors. Our part availability is very diverse.
With access to most all major powersports manufacturers, your part may be available! I placed an order by mistake. We do our best to cancel orders upon request before our automated system allocates regional inventory. Cash or Charge on Pick-up. This will be calculated and applied at checkout.
Customer Service SoCal Powersports offers competitive prices on performance aftermarket and OEM parts for every type of ATV, Dirtbike, Jetski, Motorcycle, PWC, Snowmobile and more. Our experienced customer service staff represents a combined 50 years in the the powersports industry. No matter how technical or obscure, we will do our best to provide you with accurate answers to your questions.