Mikuni RS Performance 34mm Flat Slide Pumper Carburetor Carb Rack RS34-D21-K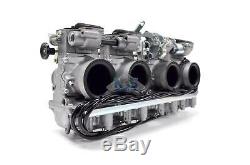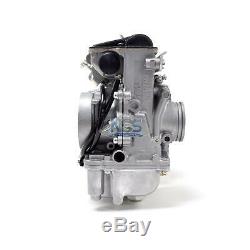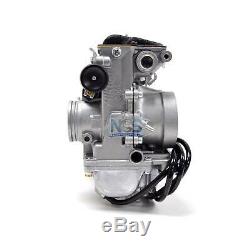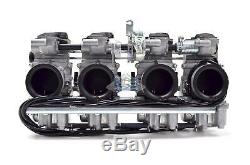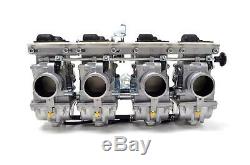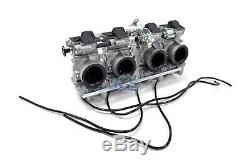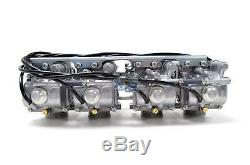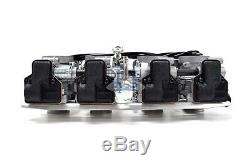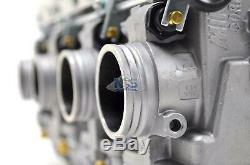 RS Series Carburetor Rack - 34mm. This rack has a 77mm-93mm-77mm spacing from center to center to center of the carburetor spigots. This needs to match that of your engine ports.
The Mikuni RS series carburetors were designed and built in response to the needs of the worlds top motorcycle road race and drag race teams. They required carburetors which could satisfy the precise fuel metering demands and high flow volume required by highly modified race engines. And yet, also provide the smooth controllable throttle response that is needed by any rider pushing his motorcycle to its limits on the race track and under any high performance applications. The carburetors need to meter fuel correctly under a wide range of atmospheric conditions and engine tuning modifications while being easily accessible for trackside tuning changes which need to be made quickly. Designed for in-line four cylinder performance motorcycle applications, the Mikuni RS series radial flat slide carburetorss offer superior horsepower gains with their maximum flowing smoothbore induction tract and radial flat slide design.
And adjustable accelerator pump system helps to provide instant throttle response, particularly in the lower RPM range. The RS series carburetors feature a compact design which is 25% lighter than other performance cabs and uses readily available Mikuni jets. Starter System: Provides fuel enrichment for cold engine starting Adjustable accelerator Pump : Adjustable accelerator pumps system helps to provide instant throttle response, especially in the lower RPM range Accelerator Pump Adjust Screws : Sets on and off operation of accelerator pump in relation to throttle slide position. Idle Adjust Screw: Controls engine idle speed Throttle Return Spring: A choice of positioning pegs allows adjustment of spring tension Pilot Air Jet : Use in conjunction with the pilot fuel screw for tuning of mixture at idle to 1/4 throttle Smooth Throttle Bore: Produces the optimum air and fuel mixture flow at all RPMs Accelerator Pump : Shoots fuel directly into the intake tract for immediate engine response Flat Throttle Valve: Provides the strongest signal for precise and instantaneous throttle response. Typical, but not all of the Applications: GSX-600 1988, GSX-R750 up to 1990, GS750 ALL YEARS, and the Kawasaki KZ750.
Mikuni RS Performance 34mm Flat Slide Pumper Carburetor Carb Rack RS34-D21-K. We provide quick service to all corners of the world. We need our international customers to be aware of a few things. If you need the order to arrive quickly, the cheapest method offered may not be suitable. There can be many reasons.
This is to protect our reputation, and our bottom line. We supply all relevant sizing information for each carburetor, so please check to be sure you are ordering what will work for your project. You must make sure that you know what series and size(s) of jetting you need.
We provide actual photos on most parts, and we are here to help determine what you need if you are unsure. Message us if you beleive you have received a faultly electronic part, and we will help determine the issue. Exhaust Systems, Mufflers, and Head Pipes. We do not accept back exhaust products that have been installed or where installation was attempted. If you feel you have received a product in error, message us before you attempt the installation.
We know you want your parts as soon as possible. We stock what we sell.
All of the items offered on this site are stocked in our warehouse in beautiful St. Every item has real time availability displayed, eliminating 99.9% of backorders. We pride ourselves in taking our own product photos so you know exactly what you are getting. The item "Mikuni RS Performance 34mm Flat Slide Pumper Carburetor Carb Rack RS34-D21-K" is in sale since Friday, September 1, 2017.
This item is in the category "eBay Motors\Parts & Accessories\Motorcycle Parts\Air Intake & Fuel Delivery\Carburetors & Parts". The seller is "niche-cycle" and is located in Saint Petersburg, Florida. This item can be shipped worldwide.
Brand: Mikuni
Type: Carburetor
Manufacturer Part Number: RS34-D21-K
Country/Region of Manufacture: Japan
Carburetor Size: 34mm
Idle Location: Top
Mount Type: Spigot
Engine Side Spigot OD: 40mm
Intake Bell OD: 55mm
Accelerator Pump: Yes
Main Jet Series: N100.604
Pilot Jet Series: VM28/486
Needle Jet Series: 568
Needle Series: #9
Carburetor Slide Type: Flat Slide
Fuel Inlet Size: 5/16"