Keihin FCR Flatslide Carburetor Flo-Commander FZR CBR ZRX GSXR OWO1 R1 R6 ZX7 FZ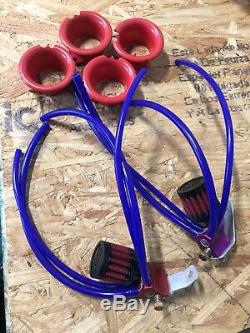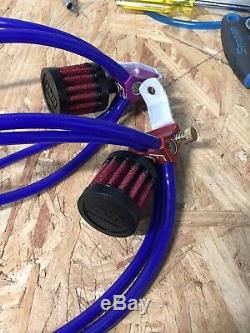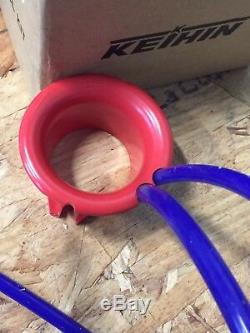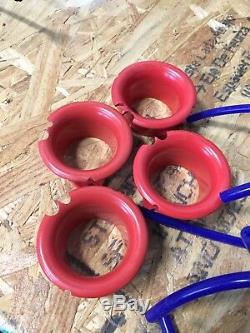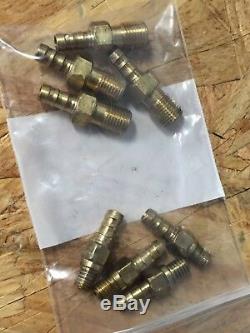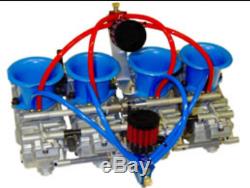 Keihin FCR Velocity stack set + FLO COMMANDER Keihin FCR Carburetors. Velocity stacks have been modified to allow fitment of the hoses for the flo-commander.
Flo commander is an easy to adjust external main and pilot air jet circuits. 4x red 35mm velocity stacks. 2x flo-commanders with filters, hoses and mounting brackets.
Info below form the manufacturers website. The normal installation attaches the Flo-Commander. Main unit to the main air-jet/restriction passage on each carburetor body. The Flo-Commander Fuel / Air Management.
System will then be functioning whenever the main fuel / air circuits. Are functioning in the carburetors. Just starts to work at approximately 1/8 throttle opening to WOT. Is pretty much in full control by approx.
30% open throttle to W. There's usually no major need to install a second system on the pilot system but we do have what you need, if you want too. This is not necessary, for almost all applications. The original set-up on the main circuit, will make all the improvements that you want or need. We have always been sure in all our literature to let you know that the normal installation is on the main circuit. Placing a system on the pilot circuit is for those who have an engine/carb combination in which that circuit is giving them "fits" trying to tune, in other words, a very radical cam, a set of carbs that are really to big for the engine to idle good or come off idle real "crisp", etc. The common way its put amongst many having a problem with the transition from the pilot circuit to the main circuit, is that on/off feel when cracking the throttle after the apex of the turn on the track or street, or even the on/off spot you can get on the street when starting off from a stop. Or they can be for the tuner which wants the ultimate in carb synchronization/power and tunability. To the Right is shown a Honda Main & Pilot system set-up w/the V. Stack Plates & Stacks removed so you can see how they attach.. Here, the red tubing is attached to the longer (in this case) Tubing Adapters.
Many have been asking if the Flo-Commander will work with the pilot circuit as well as it does with the main circuit, and do we have the parts to fabricate a set-up for it as well. Well, the answer now is yes to both questions.
This arrangement enhances operation at idle as well as throttle response from a closed, or a slightly open position. Many times as you close the throttle upon entering a corner, then start to crack open the throttle there is a lag then a sudden hit of power, (which has been the cause of more high-sides than many racers want to remember). This is evident/noticeable on race engines where this area (from closed to 1/16th or 1/8th open throttle) , has been given little tuning time, or just can't be tuned well using normal methods, due to many different reasons. This is common with many Flat-Slide type set-ups, as well as stock carbs which are many times very lean at idle, and at a "just cracked open position". With the stock set-ups, the problem is not usually enough of a problem to be noticeable or to be concerned with.
The idle mixture screws will usually take care of a lot of that area. However , the Flo-Commander system set up with this circuit enhances throttle response from the closed throttle & "just cracked open position", and increases power thru better synchronization.
Due to the fact that with most o. M carbs, the pilot circuit uses fairly large air restrictions, and the fact that at part throttle, precise synchronization really makes a difference.
As your throttle position opens further, into the main circuit, your other Flo-Commander will take care of the mixture and synchronization from there to W. On a street Sportbike, when you are cruising at a lower part throttle position, say up to 3500 or so, the Flo-Commander set up on the pilot system will solve many tuning problems, which make the engine run rough or surge there.
Again, our system on the main circuit is the best for overall improvement, but if need be, a set-up on the pilot system can be a great plus as well. The item "Keihin FCR Flatslide Carburetor Flo-Commander FZR CBR ZRX GSXR OWO1 R1 R6 ZX7 FZ" is in sale since Wednesday, May 29, 2019. This item is in the category "eBay Motors\Parts & Accessories\Motorcycle Parts\Air Intake & Fuel Delivery\Carburetors & Parts". The seller is "keihin-fcr" and is located in Royal Oak, Michigan.
This item can be shipped worldwide.
Manufacturer Part Number: Does Not Apply
Brand: Flo Commander