Kawasaki KLR650 Mikuni Carb, TM42-6 42mm Flatslide Pumper Kit, Cable Choke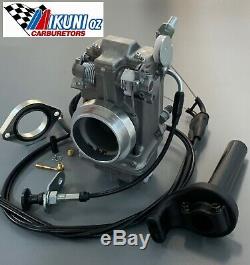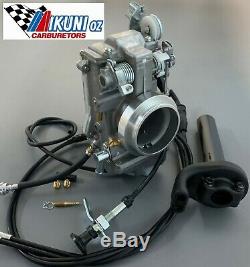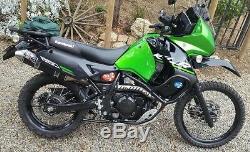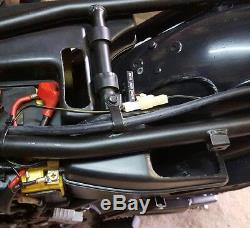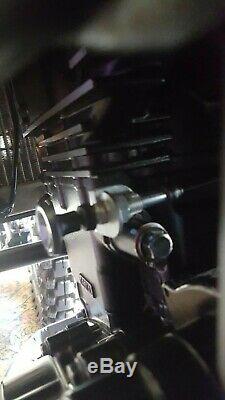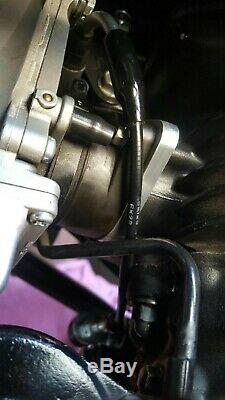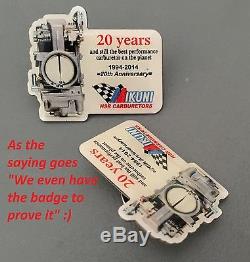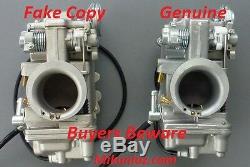 Genuine Mikuni TM42-6 (HSR 42). Fitted with cable choke for use on KLR 650 with crash bars. The performance change you will experience with this carb fitted is nothing short of amazing.
With a stock motor running road gearing and an exhaust system fitted, a quick blip of the throttle when riding along the road in second and the front wheels up, crack it hard and youll loose traction. No hesitations or flat spots just a Kawasaki KLX KLR 650 on steroids. The TM42 is by far your best performance option and worth every bit of messing around with fitment. To get the power improvement required for 2nd gear wheel stands you must have a performance muffler fitted and be prepared to drastically open the air box to allow it to breath. The Mikuni TM42-6 HSR flows 17CFM more than our TM40-6 and incorporates many upgraded features such as a roller-bearing slide.
All this means going even faster has never been so easy, say goodbye to stock carb sluggish throttle response, hesitations and flatspots. These Mikuni carburetors are correctly sized and easily fitted to your Kawasaki KLX 650 stock air box when using the silver anodized air-box adapter. For this Mikuni carburetor to operate correctly the motorcycles air box must be opened up to allow way more air flow in. The kit also comes with throttle cables and a 1/4 turn quick action throttle.
After extensive testing the jets fitted should nail your tune straight out of the box. Climate, altitude and fuel density from different octane fuels all have varying effects on final fine tuning as does cam, exhaust and cylinder head porting etc. For this reason we have installed what we have found to be a range of jets to allow you to tune to most variables. On the Kawasaki KLR650's with the single frame bar above the carb, the supplied 10mm wide, port matched rubber mounting flange spacer needs fitting to move the carb back for starter motor clearance. You may then need to on some bikes remove some material from the top motor mount frame bracket and the rear weld attaching it to the tube.
The rubber snorkel coming from the air-box needs shortening to compensated for the spacer and when attached will then pull the carb back down. To rectify this, use a zip tie looped over the frame above to lift the carb back upward. The rubber soon re-shapes and de-stresses itself after a while with engine heat. The jetting we supply fitted is generally perfect and unfortunately with this bike you have to remove the carb for any jet changes if doing a main jet tune check or any other changes but as we've stated earlier the inconvenience of this is minuscule compared the weapon it creates. Fine tuning is generally related to exhaust system with the KLX650 where the supplied setup is in most cases perfect but if you don't get that instant "WOW I've got myself a crazy wheel standing machine" feeling, it will usually only usually relate to pilot jet size and or needle clip position setting.
A spare pilot and two spare mains are supplied in case they are required. You will instantly experience way better throttle response, improved smooth acceleration, increased horsepower and torque. Plus the bonus of better fuel economy. For this bike the custom reviews tell the story and will definitely impress you especially when watching Glens YouTube clip. To fully appreciate the potential this carburetor has you must fully read and follow the provided fitment and tuning sheets. To clarify some commonly asked questions about this carb in regard to a comparison with our TM40mm. Both of these are great carburetors and you will be more than happy with the improvement delivered by either. The 40mm is a great carb but the 42mm is just a little more finished version, understanding where they came from really makes it all clear. In the late 80s Mikuni American released the HS40 as an amazing new carburetor for the Harley Davidson market, literally knocking all its competitors off their perches. I was at the San Jose Custom Chrome Show when it was released and become part of that buzz as Australian distributor. This slide type fuel metering device basically made the competitors butterfly type carbs seem like lawn sprinklers. With the huge increase in Harley Davidson sales this became a very lucrative market. Recognizing the potential of this market and being aware of the efforts of competitors to try and grab their share of it made Mikuni realize the necessity of replacing the 40 with a carburetor to be the be all and end all of all carburetors. The target was to deliver unrivaled peak performance combined with smoother throttle operation and lighter throttle pull by replacing the metal on metal slide action with a slide running on roller bearings and replacing the load bearing throttle shaft bush with a needle roller. Also, a larger fuel bowl capacity but most of all superior venturi design and fuel atomisation resulting in more precise mixture ratios to not only increased horsepower and torque but also to enable the fitment of a larger carb to smaller capacity engines without losing valuable bottom end power, where in fact instead gaining more.
In 1994 the HSR42 was born and just like you will if you fit one to your Kawasaki, all we could say was WOW. Instant throttle response delivering 25% more horsepower and torque over the stock CV carb before even putting on a real high flow air-cleaner. As the badge says 20 years later Still the best performance carburetor on the planet. Unfortunately, the TM42 for many years only had limited sales in the Japanese single market due to its physical size negating fitment to many of the more popular big single thumpers and thus only appealing to the custom bike builder as there had never been a cable set, air-box adapters, accelerator pump nozzles small enough and a some other required items available off the shelf.
Here in Australia Mikunioz realized someone had to take the plunge and build easily fitting kits, which we with great success, designed and released onto the market late in 2015. We do get some people asking if this carb will affect fuel consumption.
When comparing our two performance carbs, on regular 95 octane fuel, the 42 on a stock KLR 650 with exhaust system uses a 132.5 main jet where the 40 generally uses a 140 and the same goes for the original application on a Harley Davidson Evolution engine where the 40 needed to use a 165 compared to the 42 which delivered around 10% better performance with a 160 main jet. When comparing with the stock carb, you will get way better fuel economy, but it all depends on how having a lot more power and torque effects your riding habits. If you can manage to back off and just have your bike perform at its present level youll be pleased with the fuel economy, but of course when the same amount of twist that equated to average acceleration before, becomes front wheel lifting, breaking traction action, well its hard to not want to go and play. If you have more horses in the paddock and you want them all to perform, you have to feed them more hay!
We have express options available for all our products also. Townsville to Brisbane 3 days, Townsville to North/Just South and West is usually 1-2 days.
NSW ACT & VIC 4-6 days, TAS & SA 4-8 days, WA & NT 8-12 days. NSW ACT & VIC 2 days, TAS & SA 2-3 days, WA & NT 3-4 days. This is entirely out of our control if this occurs. THIS IS JUST PLAIN OLD COMMON SENSE. Please also note that international parcels HAVE to be signed for and all parcels whether domestic or international are fully insured.
THE FOLLOWING INFORMATION IS FINAL. THIS IS FINAL AND NO OTHER EXCEPTIONS! The item "Kawasaki KLR650 Mikuni Carb, TM42-6 42mm Flatslide Pumper Kit, Cable Choke" is in sale since Thursday, September 19, 2019. This item is in the category "Vehicle Parts & Accessories\Motorcycle Parts\Air Intake & Fuel Delivery\Carburettors & Parts".
The seller is "mikunioz" and is located in Townsville, Queensland. This item can be shipped worldwide.
Manufacturer Part Number: KLR650/42KIT-CC
Brand: Mikuni
Type: Carburettor